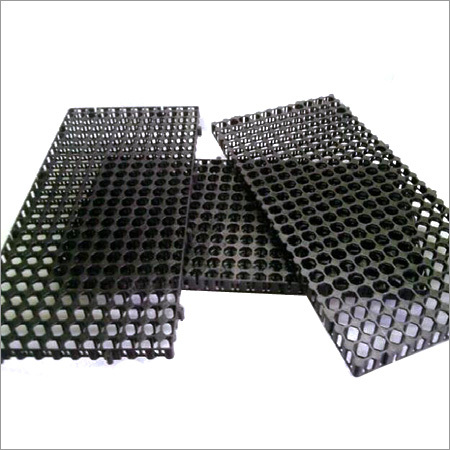 Drain Cell
Price And Quantity
Square Meter/Square Meters
Product Specifications
Draincell

sub-surface drainage and waterproofing membrane protection.
Product Description
We have two makings of Drain Cell
Flexodrain: It possess two height with similar compressive Forte (80 Tons) & Similar Design

Flexodrain 13mm Height
Flexodrain 20 mm Height
(Flexodrain)Draincell are high strength and lightweight linked drainage cell that are particularly intended for waterproofing and sub-surface drainage membrane defense. These are man-made from high forte polypropylene and are utilized in numerous applications like planter, terrace gardens, and podium systems, landscape decks, basement retaining walls, sports fields, pond filtration systems, agri-horti usages etc.

Flexodrain provides developers and architects wide design suppleness and has an extensive variety of usages in the building, landscape, and construction industries.
These drain cells are often 20mm in tallness and are convenient to fit, by meshing them horizontally and steeply. The Hydro drain cells also performances as a defense layer over waterproofing membranes, and makes a thermal insulation fence. The exposed surface design and tall internal void volume allows the fast capture and conveyance of high water capacities. The Cups intended in the Flexodrain can stock slight water. The roots of grass and plants can take this water over Capillary act and will assist in the development of these plants.

Drainomat: It possess two height with Different Compressive Forte & Design.
Drainomat 20mm with 120 tons compressive Forte
Drainomat 30mm with 160 tons compressive Forte
(Drainomat) Draincell are high strength modular drainage cell which are especially designed for sub-surface drainage and waterproofing membrane protection. Drainomat are manufactured from high strength polypropylene and are used in various applications like Fire Tender Path, terrace gardens, planter and podium systems, basement retaining walls, landscape decks, pond filtration systems, sports fields, agri - horti applications etc.

Drainomat offers architects and developers High Strength with strong design flexibility and has a wide range of applications in the landscape, building and construction industries. These drain cells are comes in 20mm & 30mm in height and are easy to install, by interlocking them horizontally and vertically. The Hydro drain cells also acts as a protection layer over waterproofing membranes, and also creates a thermal insulation barrier. The open surface design and high internal void volume enables the rapid capture and transport of high water volumes. The Cups designed in the Flexodrain can store little water also. The roots of plants and grass can take this water through Capillary action and will help in the growth of these plants.

Advantages:
Excellent water discharge capacity.
Superior bearing capacity to withstand the mechanical stress during and after installation.
Minimum soil depth required.
Easy & Fast Installation.
Minimum irrigation of water.
Lightweight and High Compressive Forte
Large superficial annulled ratio
Enduring Free Flow
Horizontal and vertical usage
Sluggish to organic acids, alkalis and salts
U. V. Resilient and Maintenance Free
Little cost, convenient and fast installation
Applications:
Vertical
Horizontal
Bridge Abutments
Golf Courses
Landfills
Landscaping
Retaining Walls
Road Edge
Sports Field
Tunnels
Golf Courses
Green roofs
Landscaping
Paving
Planter boxes
Roadways
Sports Field
Drain cell Installation Procedure Technical Data
Primarily we do the waterproofing.
We can put a supplementary waterproofing film 250 micron (HDPE) sheet under the drain cell overhead the slab.
We must select the drain cell from four variability as per uses.
Cut the drain cell according to shape. Untrained and interlock them.
We must place the drain cell flat as well as perpendicular too.
Put the filter fabric above the drainage cell letting for a 4" overlay at apiece seam. Let for extra fabric to cushion the limits of the drainage cell about the perimeter in contradiction of the waterproof skin and walls
Connect the drainage cell sheer to the stockades of planter boxers if obligatory and shelter with filter fabric. Let adequate overlap to the flat units
Lay a 50-100mm coating of washed rough river sand to perform like a filtration layer above the fabric
Lay the soil outline to the obligatory depth.
Technical Specifications
| | |
| --- | --- |
| Color | Black |
| Width | 0.5-3 m |
| Material | HDPE |
| Length | Customized |